Industrial Data Collection
Analysis and Control
---
Madison
Fluid Sensing Solutions
Radar Liquid Level Sensors:
R3-100C232-ATE


Single Frequency Radar Level Measurement

50 or 100 Ft Range
For turbulence, uneven surfaces, high pressure, vacuums
Programmable via communications port or Push Button
RS232 or RS485 comm port options
NEMA 4 (IP65)
Data Sheet

R4-100R2R6


Dual Frequency Radar Level Measurement

33, 50 and 100 Ft Range
Increased range over single frequency radar
Also used for open channel flow and uneven, dusty solids (gravel and aggregates)
6.3 GHz and 26 GHz options
Data Sheet
Operating Principle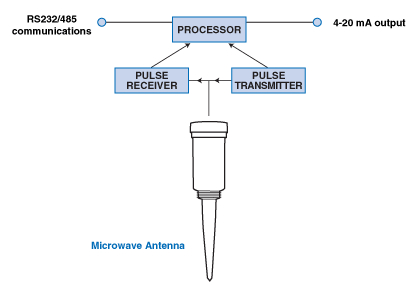 The microwave rod antenna is stimulated by an electromagnetic pulse transmitter and sends very short pulses to a target. The pulses reflect from the target and then they are received back by the same antenna. The electrical signal from the antenna is amplified and processed. The distance to an object is calculated and then converted to 4-20 mA. Optionally, level information is also sent to a PC via RS232 or RS485 for diagnostic data logging and programmable set-up.
Unit Architecture
Simple mounting and push-button calibration make for a very easy installation. Calibration can be completed on the bench or in the field by following simple instructions. The sensor can be threaded directly into a 2" NPT metal or plastic flange.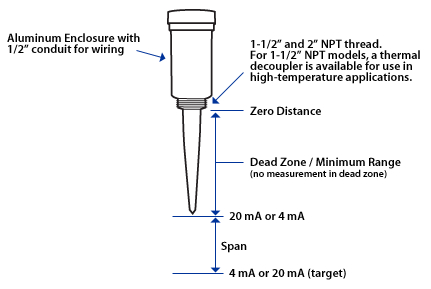 Radar Sensor Still-Pipe Mounting: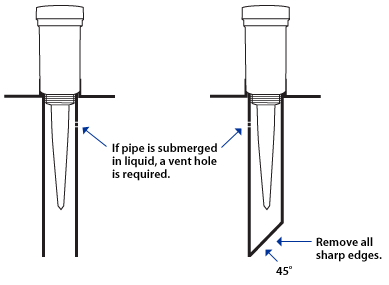 No end cut is required for pipes with Inner Dimensions of 6" or less.

End cut of 45° is required for pipes longer than 10.5"; the ID of the pipe must be greater than 6".
Madison point level float switches use reed switch technology that is simple, reliable, and durable. They operate in an on/off state, and are used to control an external device such as an alarm or an on/off switch. Because OEMs need sensors for tanks that vary in width and height, certain point level float switches are offered with field-adjustable stem lengths. This provides an OEM with the advantage of using only one or two sensors for their application instead of several.